20 July 2017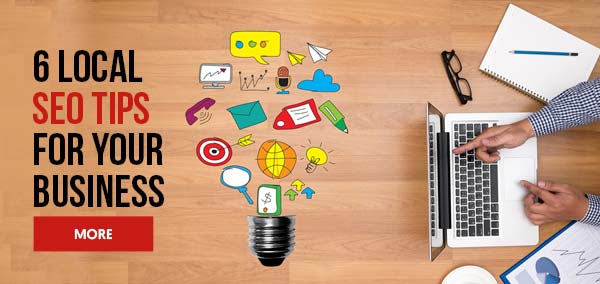 Even today, Search Engine Optimization (SEO) takes the lead in bringing higher visibility to your website and online marketing efforts.
Initially, focusing on your local audience will bring better results. Here are 6 Local SEO tips to help you get there.
01.Own a Responsive and Mobile-friendly Website
Up to 94% of all web browsing is done on mobiles rather than PCs and laptops. A responsive website is not only a marketing necessity, but also one of the main ranking factors for SEO.
Responsive design is also Google's recommended web design methodology, and it gets rid of the need to maintain a separate mobile site.
02.Optimize Your Business Website's NAP
To show up first in Google's search results, you need to optimize your business information on your own website. Incorporate the right keywords in page titles which talks about your business domain. And, do not forget to include your business Name, Address, and Phone Number (NAP) on every page.
Along with posting offers, also include information about your local area, and local events, especially those that are conducted near your business.
03.Sign Up for Google My Business and More
A simple yet effective way of boosting local SEO is to sign up for a Google My Business listing. If you haven't registered yet, now is the time. Listing your business under Google My Business will bring your business' Google search nearer the top, and it will be displayed prominently.
Get listed not only on Google My Business, but also on other local listings including Yelp, Bing, Facebook, Foursquare, Yahoo, etc. Always provide the same NAP details across all these sites, to avoid any negative impact.
04.Don't Forget to Add a Map of Your Business Location
Enhance your local SEO and online visibility by adding a map on your website to help visitors locate you better. Follow these steps to add the map:
Search for your business address on Google Maps

Click on the Link button for the code of the map

Insert the code in the contact page of your website
05.Make Use of Your Inbound Links
Inbound links from other websites can improve your local SEO and develop your web authority. Read on to know what can be done to bring in links.
Conduct a local event and ask other collaborators to link to your event page

Arrange for joint meets, seminars, or webinars

Promote local events

Go social

Build relationships with influencers
06.Good Local SEO Helps to Create Good Customer Experiences
Always track customer experiences, from click-to-close. Local SEO can make your website the best spokesperson of your business. To get there, your online presence must be continuously promoted with high precision, consistency, and the overall site experience must be more inviting and user-friendly than the competition.
The happier your customers are, the more positive user reviews you receive on your business website or your Google MyBusiness page. Google takes business reviews seriously, and gets you higher online visibility when you have enough authentic reviews.
For more insights on local SEO for your business, Click Here.