24 May, 2017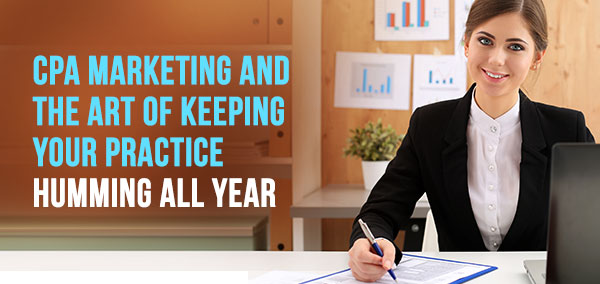 CPA Marketing Works, And It All Starts with a Meaningful CPA Website
As a Certified Public Accountant (CPA), your business undoubtedly booms every year during a specific time when people flock to you for your expertise in financial matters, the tax season. But what about the rest of the year?
Let's face it, business for CPAs is very much seasonal. So unless you want to face the long wait until the tax filing deadline returns, you need to put on your CPA marketing hat and do something to keep yourself busy all year round.
Here are a few simple CPA marketing hacks that will help you with a steady stream of clients.
Talk to Your Clients Often
People who approach CPAs to file their tax returns only do so around the time of the deadline. Once it's done, they vanish for a whole year. This leads to an obvious problem: the incapability of creating and maintaining client relations on a personal level. You get the highest probability that a client will return to avail the services of your CPA practice only if they know you well enough, so how do you get that done?
Since you, as a CPA, will have ample time at hand during most of the year, use it to your advantage to get your clients to know you better.
Saving money is an idea that anyone will jump at, so motivate customers to not wait till the last moment to approach your CPA firm. If you design and develop a quarterly tax saving package, your clients will interact with you 4 times a year as opposed to just once, and even better, you will not be as overstressed as you usually are when the tax season actually arrives.
Be an Online Extrovert!
Once you have an attractive client proposition like the "quarterly tax saving package" ready, give it top visibility on your website. Create a dedicated CPA marketing landing page for it and publish all the details associated with it in clear, easy to read, and easy to understand language. Set up links from other sections and pages of your website back onto this dedicated CPA marketing page. Promote it aggressively on your social media channels as well.
In short, make it as visible as possible.
Remember Your Existing Clients
While you're doing all this, don't forget to send out emails or SMS messages to your existing clientele of your CPA business notifying them about your new CPA marketing package.
In fact, why not go one step further and give a discount to your patrons who refer new clients? Your existing customer base is an extremely important resource for you as these are the people who are most likely to bring in even more business for you CPA practice.
For more information on CPA marketing hacks to improve your practice, Click Here.