13 Jul, 2017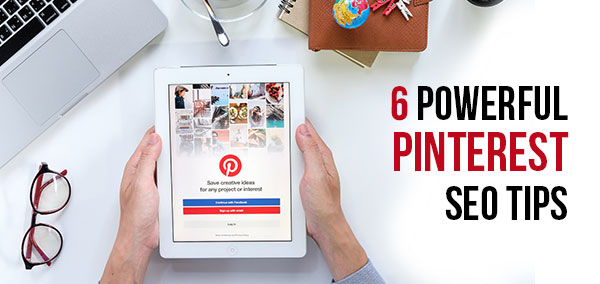 With over 150 million monthly users, Pinterest is a perfect social media platform for marketers. Here are 6 powerful and essential Pinterest SEO tips that can get you ahead of the competition.
Tip 1: Focus on the Basics
Prior to getting into the most creative Pinterest aspects, make sure you have all the basics in place.
For gaining access to Pinterest Analytics and Ads Manager, create your own business account.

Select an SEO-friendly username for your customers to reach you better.

Create a detailed and attractive

"About you"

section, with a high-quality company logo.

Set up a minimum of one board that is well-arranged with optimized pins.
Tip 2: Know your keywords
For selecting the best keywords for your niche, intense keyword research has to be conducted on your own. Study the organization of pins and boards for particular search terms and look at automatic suggestions relevant for your pins before finalizing your keywords. Your keywords play a vital role in categorization and Pinterest search visibility.
To analyze particular keywords, take help from Google by using – www.pinterest.com "keyword".
Tip 3: Optimize Boards & Pins
The researched keywords and your audience are the main factors to focus on, when you create your boards and pins.
Boards: Both the titles and images in the board are expected to be creative, well-organized, and appealing. Optimize them as well as you can.
Pins: Creating the perfect pin is a true art. Use 600 px. by 900 px. dimensions for your pin.
Remember, Pinterest is used more on mobiles and tablets than on desktops.
Tip 4: Create Attractive Description
One of the key factors for Pinterest SEO is the description of the pins. Even though visuals take the lead, the text still matters for relevant searches. A maximum of 500 characters can be included in the description but it's sufficient if you include less text of around 100 characters.
Add details that describe the image/product and don't add hashtags in the description. Including the keywords in the description will fetch more leads, greater results, and higher re-pins.
Tip 5: Verify Your Website
To improve Pinterest SEO and website authority through Pinterest, verifying the website is important. During search results, verified websites are prioritized, and it improves your website ranking too.
There are two ways to verify your website.
1.Uploading an HTML file
2.Using Meta tag.
Tip 6: Pin and repin often
Pin your own content as well as repin others' content often. This will help in filling up your board as well as building sociability.
For more insights on Pinterest SEO, Click Here.