14 Jul, 2017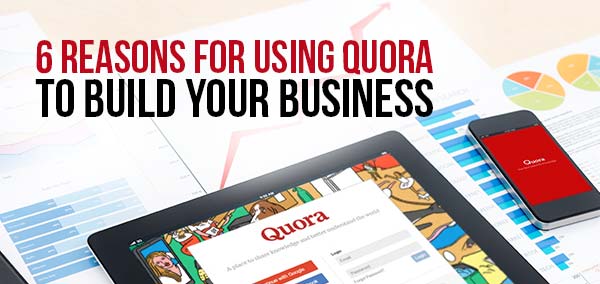 Quora is a popular social Q&A platform with over 1.5 million monthly visitors. For businesses, Quora is an extremely useful place – you can share immense knowledge, market your product/service, and drive huge traffic and leads through Quora.
Quora helps you to build your online reputation and website authority. With the right strategy, you can reach out to new prospects who are usually outside your marketing ambit.
Here are 6 reasons to use Quora for your business.
Reason 1: Quora in Search Engines
The questions appearing on Quora are similar to the queries answered by search engines like Google and Bing. If you answer these topics on Quora with relevant keywords, the chances are high that some of them will show up in popular search results.
Recently, Quora has been added to the Social Sidebar in Bing, and Google shows Quora in regular search results for a particular query.
Reason 2: Quora for Brand Recognition & Online Reputation
Quora has become a reliable source for any kind of information. Answering questions on Quora and building a conversation with your audience helps to brand you and your business as a trusted authority in your niche.
After building your brand, check for your online reputation with the help of Google Alerts. Set up Google Alerts for Quora 'Brand Name' and monitor the results to know who are talking about your brand.
Reason 3: Quora in Competitive Studies & Industry Research
Always observe how your competitors are promoting themselves on Quora. When you get an opportunity to chime in, do so by posting your views about the topic. But wait! Don't promote your brand directly and just drop a link. Tackle the concern in a different way to draw the readers' attention towards your brand.
You can also understand, analyze, and improve the features of your product/service, with the help of the feedback gleaned from these conversations.
Reason 4: Quora for Content Ideation
If you are running out of ideas to create content for your website or blog, then Quora is full of endless content tips, including trending topics in your own niche. You can find quick and relevant answers to industry concerns on Quora, which you can improve and post on your blog.
In Quora, questions play a vital role. Focus on asking relevant and interesting questions, to receive feedback from your audience.
Reason 5: Quora to Follow Influencers
Follow Quora, and you are likely to find your industry influencers follow it. Engage in a conversation with them by commenting on their answers or questioning them. Influencers can also be searched through user profiles.
Check for the users' bio, followers, and stats which can be viewed anytime. Go a little deeper and get into their social profiles as well.
Once you find some right fits, build a conversation with them to draw them towards your brand.
Reason 6: Quora as an Inbound Marketing Tool
The unique features in Quora including stats, post sharing on Twitter, Facebook, and LinkedIn, and upvotes also help as inbound marketing tools.
The more answers you post, the more number of views you get. Adding your website links is one of the most useful inbound strategies that will drive traffic, increase authority and build brand awareness.
Quora closely mentors answers, and will reject incomplete or shallow answers. This screening depends on many factors like the length, uniqueness, relevance, language, and clarity of the answers.
For more reasons on using Quora for your business, Click Here.