12 Jul, 2017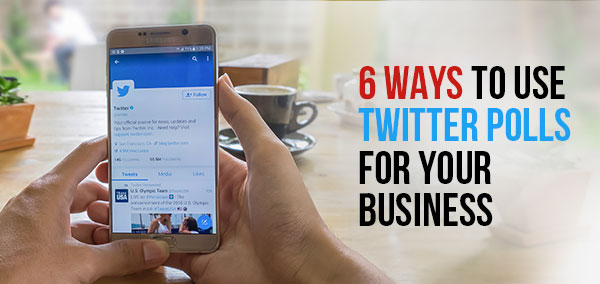 Ever since the introduction of Twitter Polls in 2015, it has been underutilized by businesses. Twitter is the most popular platform to instantly learn customers' intent, and Twitter Polls can be used to improve sales.
First, let's look into creating a Twitter Poll. Here's how:
How to Create a Twitter Poll:
Login to your Twitter account.

Click the

Tweet

button present at the top right corner of the homepage.
Click the

Add poll

button.
Add your polling question in the

Ask a question

box.
Add between two and four options in the

Choice

boxes.
Set the

Poll length

between 5 minutes and 7 days.
Click the

Tweet

button.
Wait for the Twitter Polls to end and results will be displayed in the same tweet.
Now that you know how to run a Twitter Polls, let's dive deep into using this feature to engage your customers and improve your business.
Here are the top six ways to use Twitter Polls to engage customers.
1.Post Tweet Polls Regularly
Hardly few businesses receive direct visits to their Twitter handle. It's important to post engaging Tweet Polls at regular intervals, which drive your followers to your profile. Many businesses do it daily or at least weekly.
For example, PlayStation Nation will post a daily Twitter Poll, and followers directly visit their profile.
2.Never Forget the Hashtag
Whether it's generic or branded hashtags, include it in your Twitter Polls. This helps audiences to track you better.
Along with hashtags, include "@" mentions and links as well. Remember, Twitter Polls are another form of tweeting, so keep them short and interesting.
3.In Product Market Research
Tweet Twitter Polls to find out your audiences' expectations on your products and services. This will help you to develop and release a products and services that better match customer expectations.
For e.g.: Start with Yes or No questions – Would you prefer if this feature is available in our product/service?
Later, move towards details – Which among these four features would you prefer to have in the product/service?
4.Repurpose Content Types
Organic traffic can be driven to your website through blogs and social sites. If your website have blogs attached to it, tweet Twitter Polls around topics discussed on your blog.
This will help your blog reach a larger audience, and ultimately, drive more relevant traffic to your website.
5.Tweet Twitter Polls on Current Events
Depending on your niche, decide what current events are important to your business, and tweet Twitter Polls when they are trending.
Be sensitive to audience sensibilities when you tweet about trending topics. They shouldn't be offensive to anyone.
For e.g.: Are you going to participate in the Waitsfield's #MadMarathon this Sunday?
6.Create Fun & Engaging Twitter Polls
Twitter Polls is by itself more engaging than plain text tweets, but make them more fun as well.
Include fun emojis related to your topic. Also, try to match the emotional tone of your audience.
For e.g.: Provide different face emojis and ask – Which emoji would you choose to describe the upcoming Presidential election?
For more on Twitter Polls, Click Here.