06 Jul, 2017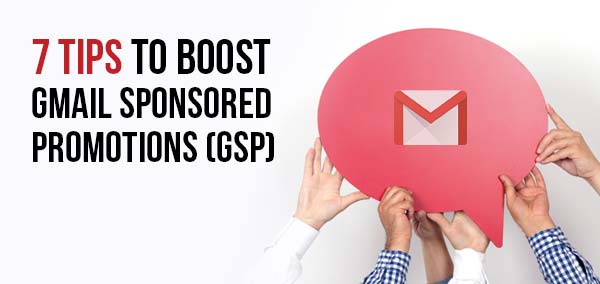 The targeting options with Gmail Sponsored Promotions (GSP) are huge. You can target topics, interests, keywords, demographics, and customer matches. Similar to PPC marketing, the chances of audiences getting converted into potential customers are high.
Gmail Sponsored Promotions (GSP) is a targeted marketing practice based on the users' Gmail account activity. Check your personal Gmail inbox in the "social" and "promotions" tabs for customized GSP.
How can you improve Gmail Sponsored Promotions' performance? Read on.
Tip 1: Competitor Targeting
Go on and do not hesitate to bid on your competitors' keywords. This works well in GSP; when your competitor sends an email, your sponsored ad will display on the top. All the effort taken to create an email campaign by your competitor takes a back seat, once your ad is displayed above their email.
You can simply add the competitors' website (competitorname.com/competitorname com) in the broad match keyword and run the Gmail Sponsored Promotion (GSP).
Tip 2: Go With the Overlap of Targeting Method
Expand your targeting group to reach out to larger and more relevant audiences by following overlap targeting. For this, you may have to focus on more than one target at once in your Gmail Sponsored Promotions (GSP).
For instance, if you are targeting restaurants, then also target restaurant managers, people looking for franchisees, and demographic-based targets.
Tip 3: Use HTML Adverts
Google permits the creation of HTML ads to create forms, landing pages, graphics, click-to-call, etc. Click-to-call is always a better option in all your GSPs, as it helps customers to get in touch with you instantly.
Also, having this click-to-call button in GSP improves conversion rate, mostly from mobile users as there is no need to visit the website for contact details.
Tip 4: Design Ads That Create Urgency
Your open rates go up by 22% when your Gmail Sponsored Promotions create urgency. A sense of urgency increases engagement and makes for better conversion.
Incorporate deadlines within the subject line and in the body as well.
For example,
15 minutes to grab an extra 20% discount

Last few hours: 80% off on 2000+ products
Tip 5: Design Campaigns by Device
With the usage of mobiles, tablets, and desktops for browsing, Gmail experiences vary widely between devices. This goes without saying that multipleGmail Sponsored Promotions have to be designed for higher conversions.
Are you thinking that you need to change the campaign completely? No, it's not necessary. Just duplicate the campaign and then add -100% in bid modifiers for both tablet and computers.
Tip 6: Make Use of Exclusions
Exclusions in your Gmail Sponsored Promotions (GSP) are an effective way to save your dollars. It's considered as a waste of ad-spend if you are not using keyword exclusions.
Through exclusions, you may stay away from unnecessary overlapping with your other GSPs. For adding exclusions:
Click on

Targeting

Select the topics to be excluded from

Campaign exclusions

dropdown.
Tip 7: Reduce Your Cost per Leads & Increase CTR
Always remember to perform the split test to increase your Click Through Rate (CTR) and reduce the cost per leads.
Increase your CTR by different targeting methods and powerful ad creative from different vantage points, and ensure to run two ads at once.
For more assistance on improving your Gmail Sponsored Promotions (GSP), Click Here.